I've been able to stop for a few minutes the past couple of afternoons after getting home from work to snap a few pictures of my outfits. The sun showers my bedroom in the late afternoon and it's a perfect time to take a picture. It has taken me a few days, sometimes needing a break from my son and fiance, to get them edited. LOL! Today you get two outfits, one from Monday, June 13th and another from Tuesday, June 14th.
The first outfit has the Shifting Buttons Skirt. I love the colors, button details and the pockets on this skirt. I'm still a bit undecided on whether the skirt actually flatter my figure. I know at shin length most skirts make you look a little stubby and wider. I paired it with a skinny belt and cowlneck hoping that the two would slim my figure. Looking at the picture now, I think the shoes are my main concern with the outfit. I'll have to find a shoe a bit taller and more summery to take the heaviness out of the lower half of the look. What do you all think?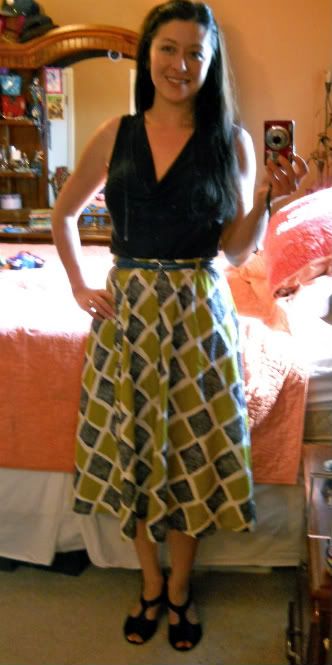 Cheap Target Cowlneck...don't remember the brand (similar styles here
)
Merona Turquoise Skinny Belt (similar here
)
Anthropologie Shifting Buttons Skirt (similar styles here
)
Seychelles Watching the Clock (here)
The Sea Pairing Cowlneck. I really love this top, the colore are beautiful and it has so many options on how to wear it. The cowlneck is made up of tho long pieces of fabric attached to either side of the neck also their are two fabric holders (like ones sewn on either side of dress to hold the belt in place) to keep everything in place. I've worn the shirt three times and every time I've worn it differently. The first time I had one strap in front and another in back, the second time both were styled in back on either side, this time they are style in back but just to one side. I guess I should have taken a picture of that. LOL! This is really a fun shirt, and I'm still having fun creating new ways to wear it. This is truly a unique piece.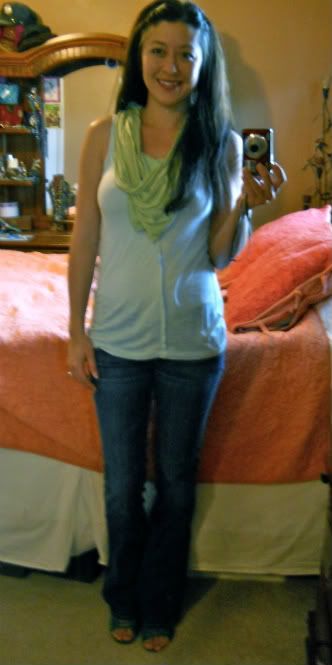 Anthropolgie Sea Pairing Cowlneck (similar styles
here
)
Hudson Jeans (similar styles
here
)
Corso Como Emeral Isle Wedges (
here
)