I would call my look simple, feminine, and also a bit funky. I tend to wear a lot of black, white, gray and brown. This spring I would like to incorporate more color into my wardrobe, more layers and a lot more
Anthropologie
. :)
Looks from the past into the present...
One of my favorite looks from last summer. This tube dress is made by Gypsy 05 and it is extremely comfortable and airy. The dress is thick enough that you don't need a slip underneath it, and paired with a cardigan or heels can be dressed up for an impromptu dinner date.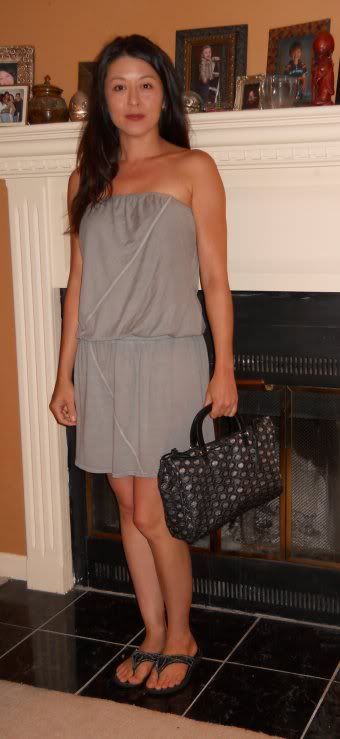 Gypsy 05 Cher Mini Dress in nickel
Prada Fabric Rings Moon Tote (no idea if this is the actual name, but that is how it was listed on ebay)
Old Navy thongs
I found this dress in my new favorite city, New Orleans. It is such a fun place for food and culture, but I have to say the shopping is terrible. However, it was the first city I ever stepped foot into an Anthropologie and it was then that I fell in love. The dress isn't Anthro though, in fact I don't even remember the brand...must have been one too many Corpse Revivers.

This winter I started to incorporate layers into my outfits. Typical past outfits were very simple, calling only for a shirt and jeans. As you can see above I've got on a tank, a cardigan and a belt on top of that. I was so proud of myself for taking the leap to layer! The whole day I felt like I had too much going on in my outfit, but I received a few compliments so I was pleased at my attempt.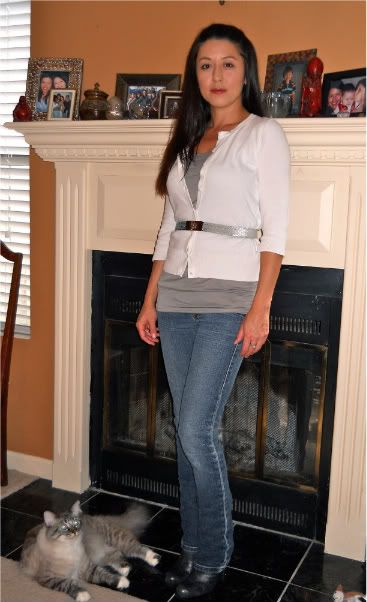 The Limited Tank
Michael Stars Shine Cardigan
Vintage Belt from Mom
Tag+ jeans
Kensie boots
Lulu Kung Fu Panda
Here is my latest creation:
First off, this isn't my photographic potential being shown here in the above photograph. I like to find a nice backdrop with some sunlight and take several shots at different poses until I find the right one. This day the I-phone seemed like a lot less trouble. Which reminds me looking at my bed...I really want that Ravena Quilt from Anthropologie. I should head back to my local shop because I think I spied one there.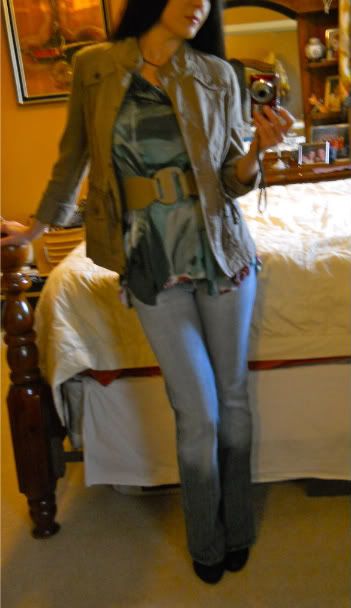 Anthropologie Poppy Options Cowlneck in Green Motif (sold out)
Anthropologie Curves and Lines Belt
Anthropologie Active Duty Anorak
Seven for all Mankind Green Crystal As in Caribbean