It's 2am on a Tuesday morning and where are most people...sleeping of course. But, I'm not sleeping because there are new cuts on Anthropologie!!! I really didn't know, I just happened to be awake, doing my usual Night Owl duties like watching Netflix, catching up on Authentic Forum and checking up to see if anything new had hit the sale racks of Anthro. This morning must have been my lucky day!
I've been eyeballing this skirt for awhile. It has something to do with the pleats, and I've just really been into skirts lately. The reviews aren't great, but hey I'll give it a try. The skirt has a lot of different colors in it, so should be pretty versatile.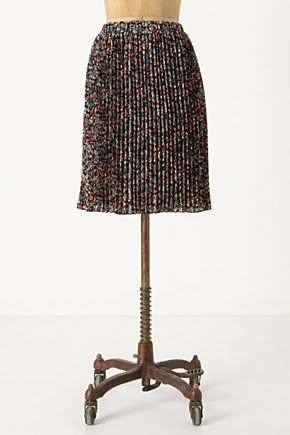 Visionary Skirt


This top has been on my Anthro wishlist since I first created a wishlist. The colors are fun and I love the twists at the top on the tank. I think this will look great as it is, belted with a pair of jeans and it would also look lovely with a skirt too...maybe a Washi skirt?
I own the black Crossroads belt and I think it is too cute. I love how you can adjust the tightness of the belt since there are no holes in the belt. When this belt went on sale, I picked up the grey and navy motif.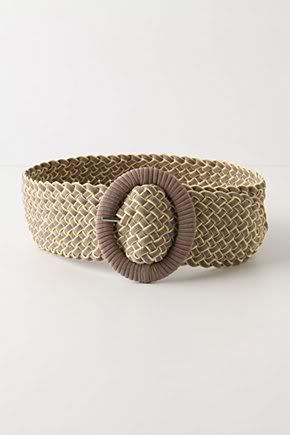 Crossroads Belt in grey motif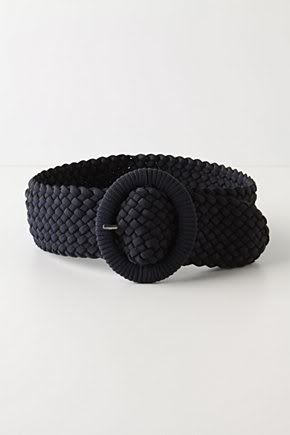 Crossroads belt in navy motif
Three words: Reversible. Seamless. Tank. I love that these tanks are reversible, but not inside out reversible, you can either wear these v-neck or scoop neck styled. How cool is that? These two tanks will definitely add a little color pop to my wardrobe this spring. *These weren't on sale, but $24.95 is a great price for a versatile layering wardrobe staple.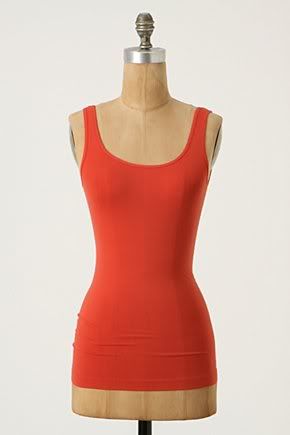 Reversible Seamless Tank in Raspberry (doesn't it look orangish to you?)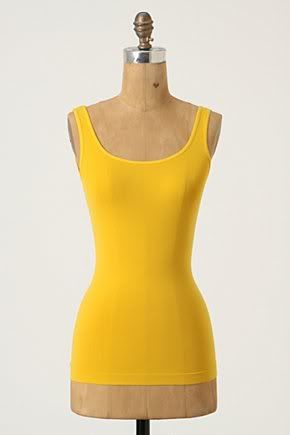 Reversible Seamless Tank in Maize


I've been wondering around Ebay again and happened upon some cute pieces at discount prices over the past few weeks. One piece I lucked upon (as I like to call it) the other day was the Washi skirt. I loved it from the moment I saw and tried it on, but for whatever reasons I didn't but it that day. This skirt has pretty much stayed out-of-stock since then, and when I saw one on Ebay in my size I had to jump upon destiny. LOL!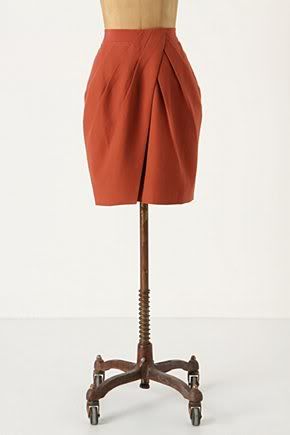 Washi Skirt
I'm not even sure what I bought here. Is it a top? It was listed as a dress, but how can that be? My butt may hang out of this one. But, I liked the print and it was only $9.99 and If I hate it, oh well I'll pass it along. I'm sure it will look cute on somebody.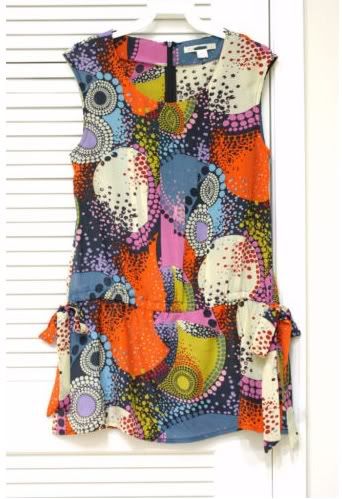 Another great find was this pretty Anthropologie raspberry tank. I really like the ruffle placement on just one side of the tank. Off topic, but I have to say I don't know what is happening to me. I used to be the girl who dressed in all black, brown and gray. What is this...more hot pink...on me? Who IS that girl? It must be the look of a girl in love!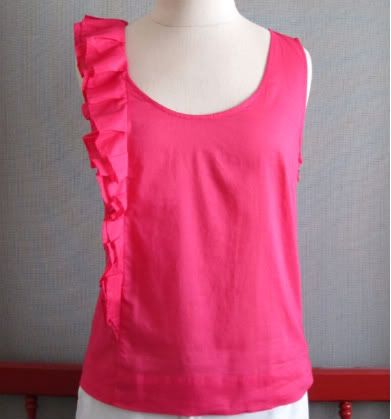 Sideward Tank