I didn't participate in any of the shopping bans that I've recently read about on other blogs like
Anthroholic
, but I think it's time for my own ban. I looked in my closet today, to begin my mission to make space for my fiance to move into my condo in 2 months. I've known for quite some time that I don't have any extra room in my closet, my long dresser or my tall dresser...even under the bed. I have so many things that I do wear, other things I sometimes wear and then there are those things you keep for either sentimental purposes or because maybe they'll come back into style. I think the standard measure regarding whether to keep an article of clothing is if it has been worn in the past 1-2 years. I have many things that I have not worn, but at the same time I'm not ready to let go. For exampe, my son is 5 years old and I'm still holding onto his Onesies because I remember when he wore them, how cute he was in them, but he's never going to wear them again. Memories.
Now that I know I have to get rid of some of the old to bring in the new, how do I start? I wonder what to get rid of and what should I do with it? Do I try to sell it on Ebay or here on my own blog? Do I donate it to Goodwill or another worthy cause? The thought of this clothing purge has got me stressed out. I have even contemplated turning my small master bathroom into a walk-in closet instead of trying to make space in my own closet and jumbled drawers. I must be more like my dad than I think, he collects everything.
During my mission today, I managed to put one pair of shoes in the box...just one. See it isn't just clothing that I need to downsize, it is also shoes too...my loves. I'm sooo in trouble and I've got two months to figure out how to whittle away some of my wardrobe. One item down...so many more to go.
So into closet shopping I will go, perhaps when I figure out what I do wear it will be easier to decide what to keep and what to finally...let go.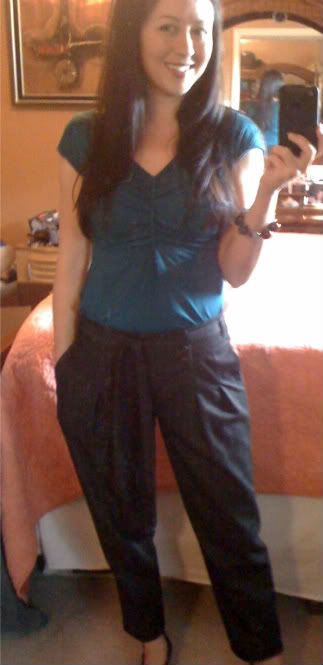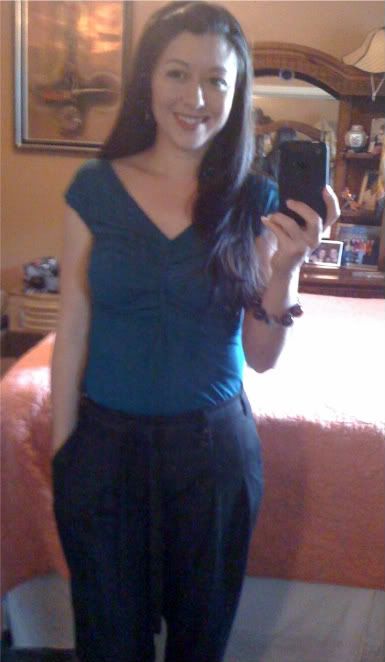 Anthropologie Graceful Drape Top (S)
Anthropologie Board Room Trousers (0)
Seychelles Watching the Clock
Jewelry by my mom